Glam Polish: Halloween Horror Shop Collection Swatches & Review { Partial }
Provided For Review
Happy Friday!  I hope you all have fun and/or relaxing weekend plans!  Mine will be relaxing and nail polish filled, I'm sure.
 It's almost October, so you know what that means… it's time for the onslaught of Halloween collections!  *insert Kermit arm flail here*  I freaking love Halloween collections!  It's hard for me to say which holiday I like most for collections but Halloween collections are usually my first or second favorite.
Today, I have 4 fabulous Halloween themed polishes from Glam Polish.  Not only are they Halloween themed by horror movie themed and I'm a huge horror film fanatic.  I have so many on my to-watch list, it's insane.  Needless to say, I am so excited about these and I can't wait to see the other shades in this collection as well!
"Omen" has a vampy blood red crelly base with tons of gold shimmer and gold and green flakes.  Starting this post off with a bang!  This is by far my favorite of the group.  Totally fitting of the Halloween season.  It's utterly creepy and fantastic.  Great formula. I've never seen the original of this film (for shame, I know!) but I saw the newer version years ago (on 6/6/06 as a matter of fact which was the day it was released to theatres) and I loved it!  I need to watch it again.  This month will be the perfect time to do it.  I did 2 coats of "Omen" here.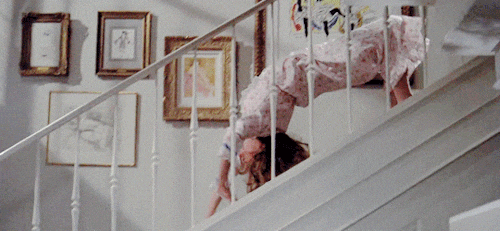 "Exorcist" has a metallic slime green base with tons of green shimmer, burgundy microglitter and green to gold flakes.  Again, just perfect for Halloween but I feel like it also has a quality that would make it great for Easter.  It kind of reminds me of Easter grass with little colorful candies sitting on top.  I love the versatility.  I saw The Exorcist when I was about 12.  I remember my Dad had strictly prohibited me from seeing it because he said it was way too graphic for me to watch.  So I sneak-watched it at a friends house (sorry Dad!) because naturally, if your parents tell you not to do something, you are going to find a way to do it.  Haha!  (Just kidding kids, listen to your parents!)  But, I was not the least bit scared of the movie.  Maybe because by that time (1999) movie magic had progressed so much and looked much more real, that for me, the movie was just kinda fakey.  I know someone is going to hate me for that.  Still, great movie and I can still appreciate it!  In fact, I need to rewatch it this Halloween season.  I did 2 coats of "Exorcist" here.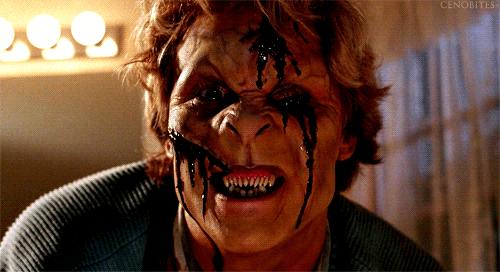 "Sleepwalkers" has a metallic plum base with tons of multicolored shimmer and green, gold, blue and orange flakes.  Gorgeous, I tell you!  I'm a sucker for a good plum colored polish so this has my name written all over it.  Sleepwalkers is a movie I've never seen.  I think this might be the perfect time to change that!  2 coats of "Sleepwalkers" for this swatch.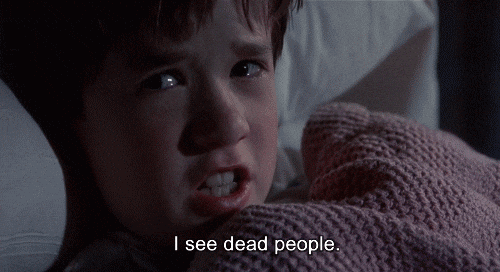 "Sixth Sense" has a blue-toned purple crelly base with pink and blue shimmer and sparse iridescent flakes.  Pretty but for some reason I think I actually would have preferred this without the flakes.  Not my most favorite Glam Polish ever but  I admit, I'm a sucker for their glitter bombs.
 And who hasn't seen The Sixth Sense, I mean, if you haven't, you must be crazy.  I don't think I'd necessarily classify this as a horror movie but it is a thriller and it definitely has it's creepy parts.  I for one, LOVE this movie.  I recently watched it for the first time in years and I became a fan all over again.  Classic.  I did 2 coats of "Sixth Sense".
The Halloween Horror Shop Collection will be available next Friday October 2nd at 3:00PM PST on Glam Polish's website for Australia and US residents (shipping rates to the US are $3.50 for the first bottle and $1.00 for each additional.)  Each shade will only be available in very limited quantities so make sure you purchase them ASAP!
Normally Glam Polish is also available in the UK through Rainbow Connection, in Canada through Harlow & Co. and in Singapore through Mei Mei's Signatures or click here for the entire list of stockists!  Though this collection won't be available through the international stockists.
Don't forget to follow Glam Polish on Facebook and Instagram for news and updates!
Provided For Review